Come Shave With Me
— Body, Subtraction — 1 min read
During the last month or so we went a bit quiet on the blog as we focused our energy on the production of Come Shave With Me; basically, a real-time multiplayer shaving webpage.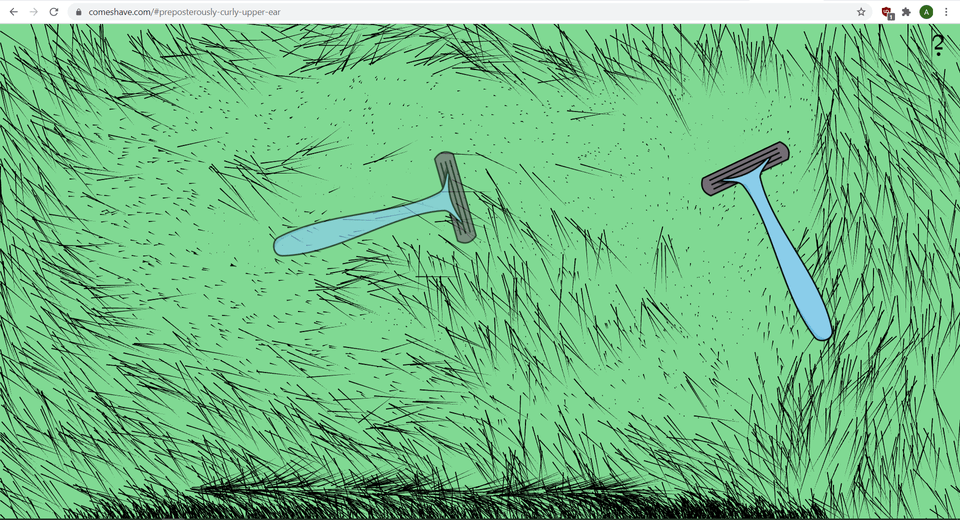 The concept behind this project came from one of our design sessions in which we were thinking about IRL examples of (bodily) subtraction. The idea of a hair removal game stuck with us, so we continued to give the design, storyboarding and technical implementation of this potential game some thought. Our initial idea was to make a tamagotchi-like game/app that would grow hair at a real-time pace — real-time for hair-growth that is, meaning on average 1.5 cm per month.
This concept, that we called the 'hair grower' at the time, was originally primarily something that we thought would be fun to practice game dev-related skills on. Eventually, we planned to do physical experiments with real bodies and develop a game concept from there.
The restrictions that were put in place this February though, didn't seem to be going anywhere and we found ourselves thinking about what we make of our bodies in isolation — in a time of social distancing, but perhaps also more generally, as a result of increasing digitally mediated communication replacing face2face contact.
With most aspects of our daily lives put on hold or displaced into video-conferencing tools, noticing my hair and nails grow felt like somewhat of a reality check. At the same time, it felt amusing (amusement dropped to some pretty low standards at some point) to just let hair grow, and go uncut — without IRL social obligations, you're relieved of social pressures to look and feel groomed, but neither do you get as much satisfaction and enjoyment from your self-care. In other words, we thought shaving would be more fun shared together with others, and now "together" meant online.
We wanted to conclude the first phase of our project with a playable, shareable and somewhat polished output, so an online, multiplayer version of our initial 'hair grower' is what we settled on. You're welcome to shave, and invite others to join you, at https://www.comeshave.com/.